Back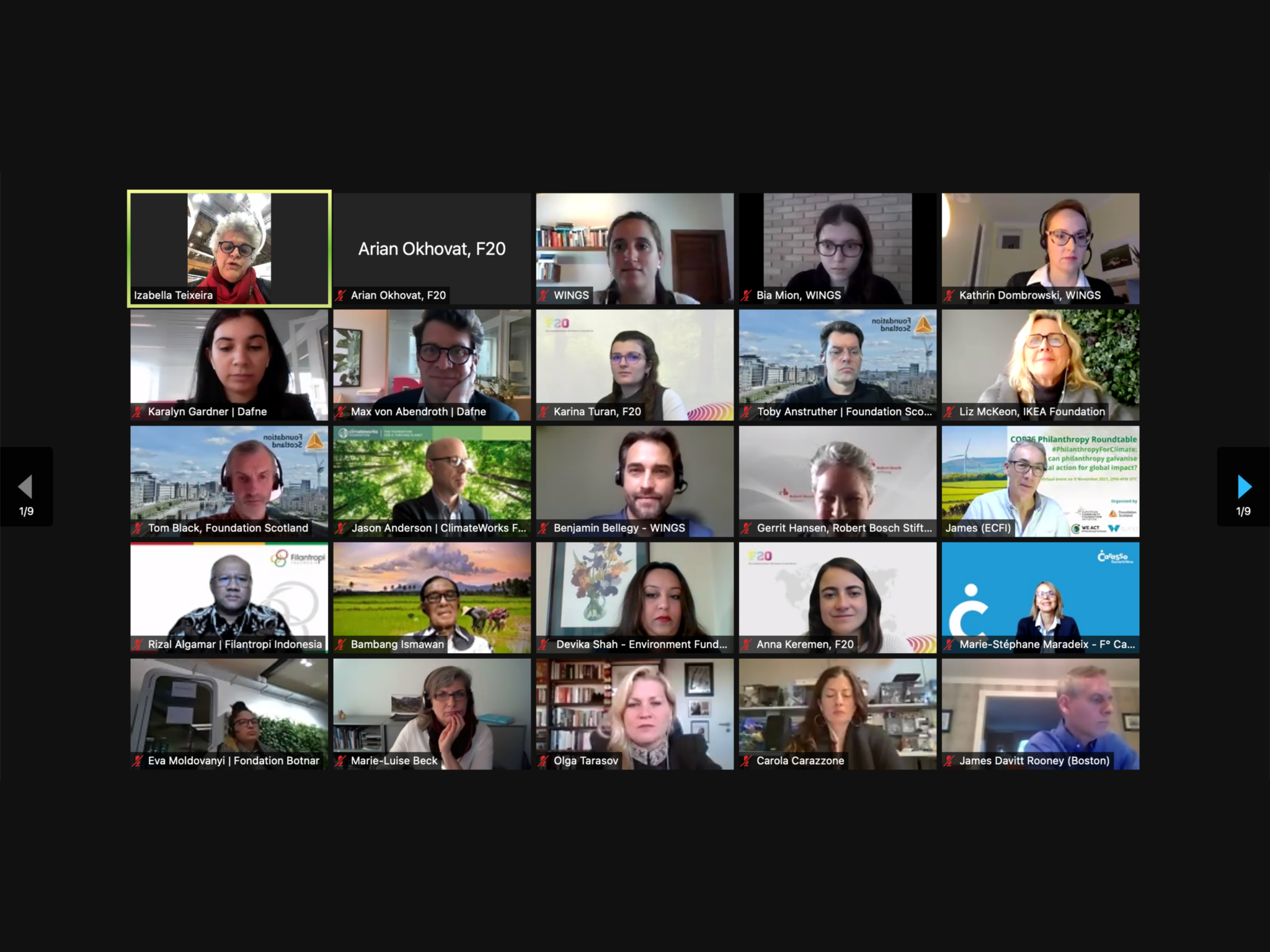 As the climate talks at COP26 progress in Glasgow, the Donors and Foundations Networks in Europe (Dafne), the European Community Foundation Initiative, Foundation Scotland, Worldwide Initiatives for Grantmaker Support (WINGS) and the Foundations Platform F20 organised the virtual foundations gathering on November 9, 2021 under the headline of #PhilanthropyforClimate: How can philanthropy galvanise local action for global impact?" in the context of the concomitant climate summit.
More than 200 participants from around the globe joined the interactive virtual event consisting of a broad agenda and excellent speakers from politics and the philanthropic sector covering current views from COP26, a presentation of the #PhilanthropyForClimate movement as well as a panel discussion on the building of resilient and sustainable solutions to the global crisis at the local level. The networks brought together with the virtual roundtable represent an enormous number of international foundations and philanthropist.
The event made a case for the urgency of climate change and highlighted the importance of cross-sectoral cooperation in the environmental fight. As emphasised by Klaus Milke, Chair of Foundations Platform F20: "There is only a small window of opportunity left. We need all hands on deck and should cooperate to be part of the solution." These solutions have to include all voices, particulary those of the most vulnerable ones who are mainly bearing the cost of the climate crisis.
It goes without saying that communities are the landing page of climate impacts. This is why it is of utmost importance to translate the globally agreed frameworks in line with the SDGs and the Paris Climate Agreement into robust policies to showcase ground-breaking action. The speakers took a clear stance on the responsibility and outstanding role of philanthropy in galvanising climate action both on a global and a local level. Philanthropy  has an immense potential for positive climate impact by their own operations as well as the investment of their endowments. International commitments such as #PhilanthropyForClimate with more than 405 signatory foundations are crucial to amplify the power of philanthropy on accelerating climate action.
Watch the Recording